Enfamil A.R - 1 Tub 19.5 oz
Enfamil A.R. Is clinically proven* to reduce frequent spit-up. Enfamil A.R. Is designed to help reduce spit-up due to its thicker consistency, yet easily flow through the nipple. That way, babies can get— and keep— the complete nutrition they need to grow and develop, helping them reach key milestones. Recommended age: Newborn to 12 months Features:#1 Brand of formula for spit-up**provides more balanced nutrition than adding rice cereal to formula includes a blend of prebiotic for digestive health expert-recommended levels of DHA and ARA to support baby's BRAIN and eye development. Use the product selector at our Enfamil Shop to find the right product to meet your baby's nutritional needs. The formula for spit-up defined as rice-thickened formula**based on a clinical study of Enfamil A.R. Infant Formula before the addition of DHA, ARA, and prebiotic with infants who spit up frequently (5 or more spit-ups per day), comparing frequency and volume of spit-up after feeding Enfamil A.R. To the same babies at the beginning of the study.
REDUCES SPIT-UPs: Enfamil A.R. spit-up baby formula with Iron is a gentle milk powder formula made with rice starch clinically proven to reduce frequent spit-up by over 50% in 1 week
TOP BRAND OF FORMULA FOR SPIT-UP/COMMON REFLUX: Meets reflux reduction guidelines, as set by the American Academy of Pediatrics
BRAIN NOURISHING DHA: Enfamil A.R. baby formula has DHA to help support brain and eye development
DUAL PREBIOTIC FORMULA: Gentle milk formula with probiotics & vitamins for immune health and complete nutrition tailored for your baby's growth through their first 12 months
#1 TRUSTED BRAND: Enfamil is the #1 Trusted Brand for Brain-building & Immune Support
PEDIATRICIAN RECOMMENDED: Enfamil is the #1 infant formula brand recommended by pediatricians
SNAP ELIGIBLE: Eligible to be purchased with Supplemental Nutrition Assistance Program (SNAP) benefits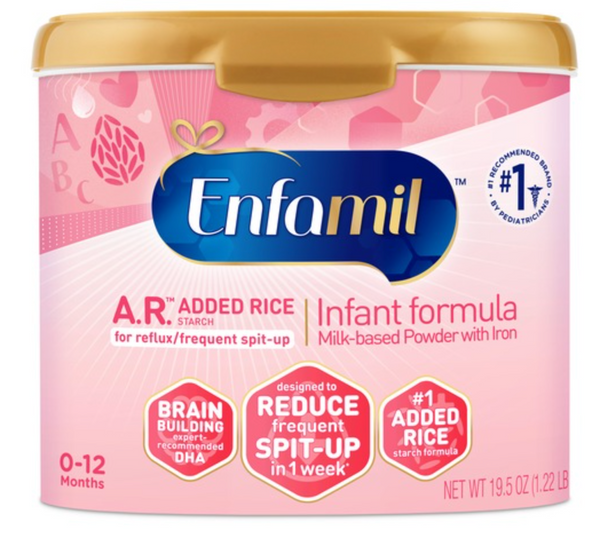 Perfect!
I ordered several tubs of this formula for my daughter. The order was shipped within 24 hours and the product is exactly as it should be!!