Alfamino Jr Unflavored - 1 Can
Description
Alfamino Junior formula is a hypoallergenic free amino acid formula for children 1+ years of age. This nutritionally complete formula provides essential nutrients your little one needs to grow.
Nutritionally complete, hypoallergenic amino acid-based formula for children 1 – 13 years
Suitable for these diets: lactose-free, gluten-free
For oral supplementation or tube feeding
Not for parenteral use
This product is intended for use under medical supervision
65% of fat as MCT (medium-chain triglycerides) to facilitate fat absorption
Nutritional applications: Cow's milk protein allergy (CMPA), multiple food allergies, eosinophilic GI (gastrointestinal) disorders, malabsorptive conditions, short bowel syndrome (SBS)
May help address feeding intolerance common in children with developmental disabilities
Not for individuals with galactosemia
Not for parenteral use
Suitable for these diets: lactose intolerance, gluten-free, low-residue, kosher

Indications for use Flavor : Unflavored Brand : Alfamino Junior Container Type : Can Container Size : 400 Gram Preparation : Powder User : Ages 1-13 Years Calories per Serving : 250 Calories Application : Pediatric Oral Supplement / Tube Feeding Formula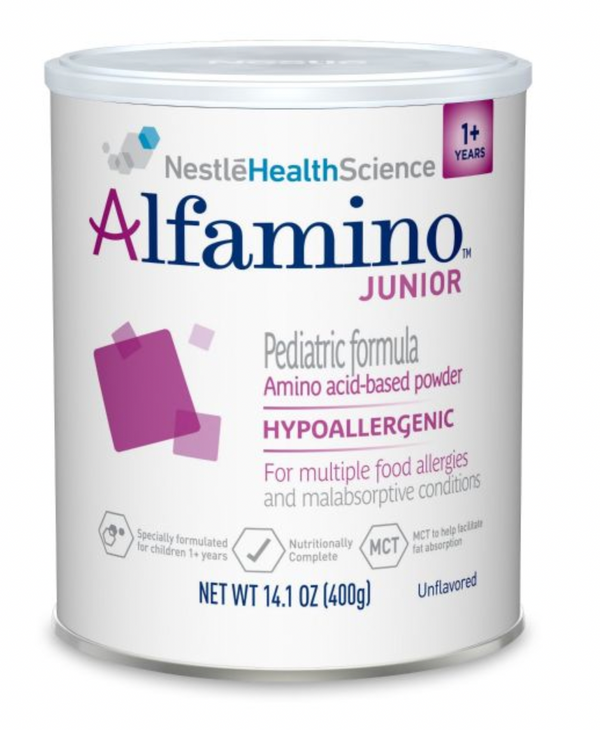 Most affordable!
My son goes through a can a day with his tube feeding. You are the only place that have cans I can afford!