Enfamil Enfacare - 1 can - 13.6 oz
Introducing Enfamil NeuroPro EnfaCare, now formulated with MFGM that nourishes the brain first and meets the special nutritional needs of babies born prematurely or at a low birth weight.Emerging evidence from a recent clinical study showed MFGM in formula supports cognitive development similar to breast milk.*NeuroPro is the only formula that has a fat-protein blend of MFGM and DHA previously only found in breast milk.† Enfamil NeuroPro EnfaCare also has additional protein, calcium, and extra vitamins & minerals‡ to promote early growth & help your little one catch up to full-term, breastfed infants.§
SUPPORTS IMMUNE SYSTEM: Milk-based, 22 Cal/Fl Oz formula with enriched nutrition and a blend of nutrients to help support baby's immune system
PROMOTES CATCH-UP GROWTH: Clinically proven to promote catch-up growth similar to full-term breastfed infants
BLEND OF IMPORTANT NUTRIENTS: Enfamil Enfacare has a blend of vitamin D, omega-3 DHA & vitamin C to help support length gain and lean support
EXPERT RECOMMENDED DHA: Enfamil Enfacare has expert recommended DHA which provides brain-building nutrition
BRAIN-BUILDING NUTRITION: Get brain building nutrition inspired by breast milk from Enfamil
#1 TRUSTED BRAND: Enfamil is the #1 Trusted Brand for Brain-building & Immune Support
PEDIATRICIAN RECOMMENDED: Enfamil is the #1 infant formula brand recommended by pediatricians
SNAP ELIGIBLE: Eligible to be purchased with Supplemental Nutrition Assistance Program (SNAP) benefits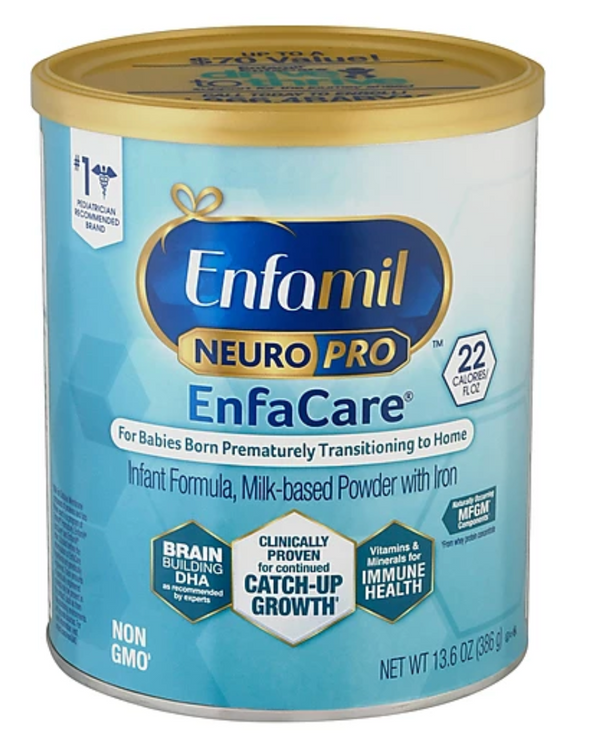 There when we needed you
Our little granddaughter was struggling with a particular formula and we were having trouble finding the new formula. You had it and we were able to order it. It came and we are set for a while 😃
Delivery failure
The formula is taking a very long time to get here. A week plus for Delivery? I'm not happy.
Enfamil Enfacare - 1 can - 13.6 oz
Fully satisfied
Enfacare (premature) formula was very difficult to find a couple weeks ago. Market Baby had some in stock and I was able to purchase six cans at a competitive price. Service was prompt.